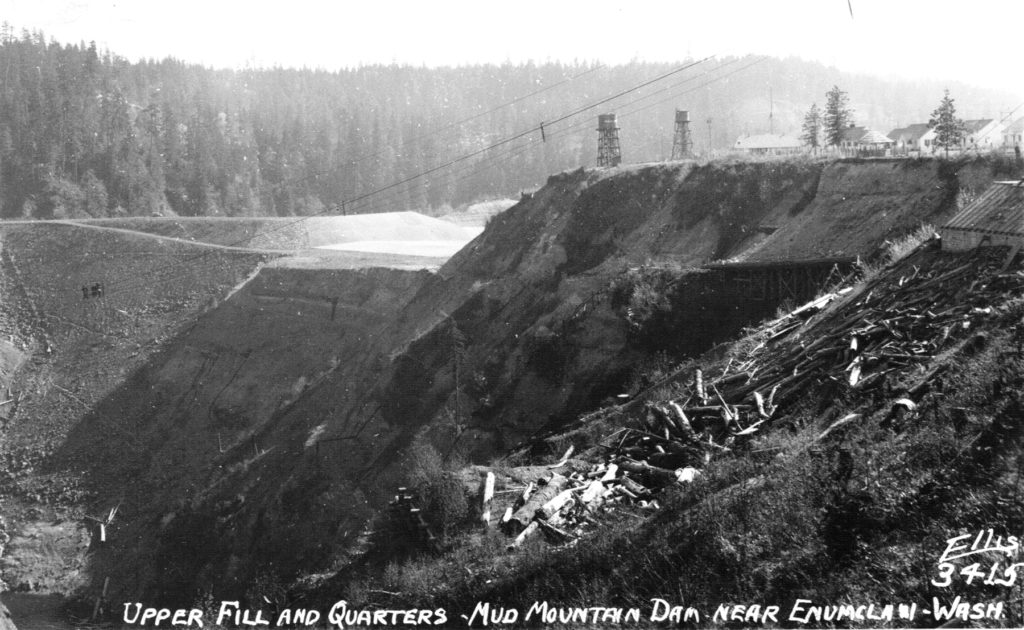 Built in a box canyon southeast of Enumclaw, Mud Mountain Dam finally tamed the annual flood threats posed by the White River. So named due to the color of it glacially-fed waters, the White River formerly turned northward into the Green River, the joint rivers becoming the Duwamish as they flowed to Seattle.
However, historic flooding in the fertile Kent Valley which stretched from Puyallup to Renton, resulted in a water war between the impacted Pierce and King counties. A begrudging solution was eventually reached whereby the White was diverted north into the Puyallup River, which discharged to Puget Sound near Tacoma. This photo #3415 by J. Boyd Ellis shows the soon to be completed Mud Mountain Dam in early 1948, just before the reservoir began filling with water.
A July 13, 1948 Seattle Post-Intelligencer article highlighted the wonders of this massive earthmoving operation authorized by an act of Congress in 1936. World War II delayed completion, but the dam was finished in 1948 by the U.S. Army Corps of Engineers. At 432 feet high with 2.3 million cubic yards of material, it was at one time the highest earthen-filled dam in the world.
Housing to support workers who helped build the dam was provided onsite and can be seen in the upper right of the photo. The reservoir behind the dam is a now an intermittent lake with a day-use park, "kiddie" pool, picnic facilities, interpretive exhibits, and 10 miles of hiking trails.
This photo comes courtesy of JoAnne Matsumura, an archivist and specialist in historic photos from our local area.