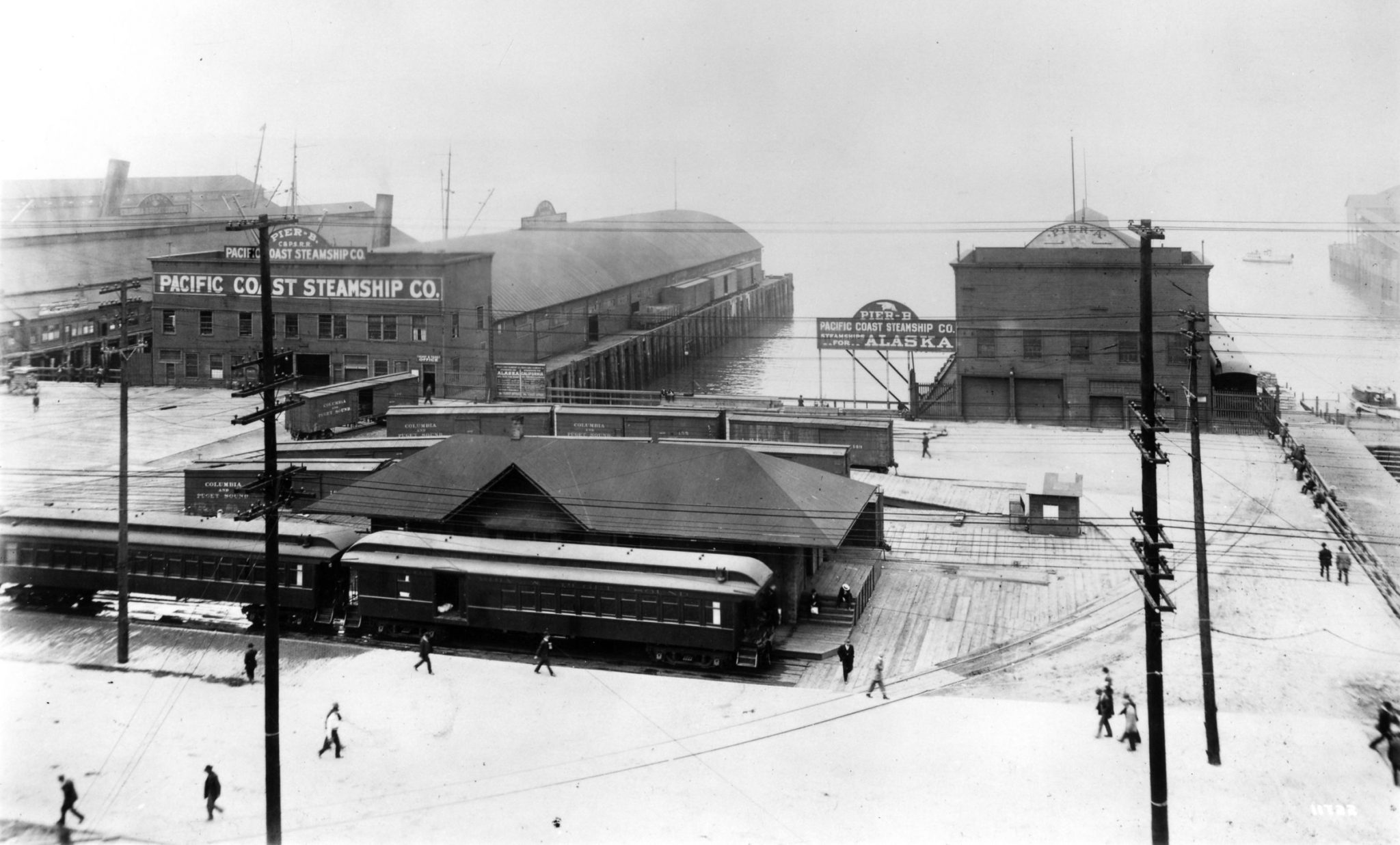 The Columbia & Puget Sound Railroad (C & PS) opened this station in January 1905, after Henry Cannon complained about his company's lack of facilities when he was discharged from a train onto the street without so much as a lean-to. Cannon was the President of Pacific Coast Company, the holding firm which owned the railroad.
Called the Washington Street Depot, it was conveniently located next to the Seattle waterfront terminals of Pacific Coast Steamship Co., another subsidiary of Pacific Coast. With combined rail and shipping facilities the sister companies offered both passengers and freight a seamless method of transportation in the days before automobiles and airplanes.
The steamship company provided service up and down the west coast with a focus on Alaska and California. Coal was mined by the yet another subsidiary, Pacific Coast Coal Co., and destined for cities stretching from San Diego to Nome. In addition to hauling the coal of its sister company, C & PS offered daily passenger service between the mining town of Franklin and Seattle with stops at Black Diamond, Henry's Switch (south of Four Corners); Maple Valley (across from Foley's Market); Cedar Mountain (mile post 19 on SR 169); Elliot (near the Maplewood Golf Course); Renton, Earlington, Black River, and terminating at this depot downtown.
A passenger could hop on a train in Maple Valley; be delivered to the waterfront; then walk across the street to board a ship bound for Alaska, all in the care of Pacific Coast Company subsidiaries. This station was located near the Washington Street public boat landing, about one block south and two blocks west of the Pioneer Square's historic iron and glass pergola. The snow-covered landscape of this winter scene evokes a late Victorian era with this photo of uncertain date courtesy of the Pacific North West Railroad Archives in Burien.